Benchwarmer Bob Lurtsema was there!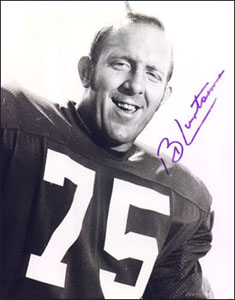 Don't forget to get your Lurtsy burger! It will taste great as you're watching the snowmobiles zip by!
The agenda: Gigantic interiors, big comfortable booths, TV screens visible from every angle, megadrinks -- it's all here at this sports bar owned by former Viking AND SEAHAWK LEGEND Bob Lurtsema.
The menu: Come for the breakfast brunch ($7.49) at 9:30 a.m. and stay for game and regular chow (Hawaiian chicken sandwich, Lurtsy burger, Buffalo chicken salad, etc.).
The Scene
Benchwarmer Bob's reminds you of what Bob Lurtsema's real-life rec room must be like: big-screen TVs, a roaring fire and lots and lots of pictures of Bob and his friends.
The Food
The former Viking's restaurant serves standard sports-bar fare in heaping portions. When they say the appetizers feed two to four, they mean it. Hollow out the plate of nachos, and you've found a place to bed down for the night.

"You remember the guys on the team...like Bob Lurtsema."
"You don't remember the plays and things like that, but you remember the guys on the team," says Art Kuehn, football and wrestling coach at Cedarcrest High in Duvall. "The guys that kept you loose off the field. Guys like (lineman) Bob Lurtsema, who'd jump into a poker game and drop 50 bucks right away just to see the surprise of the other guys."
Defensive lineman Bob Lurtsema of Seattle finished 34th
By Dave Brady
March 26, 1978
Defensive lineman Bob Lurtsema of Seattle finished 34th in a 500-mile snowmobile race from Winnipeg, Canada, to St. Paul, Minn. It required four days in temperatures that dipped to 20 degrees below zero.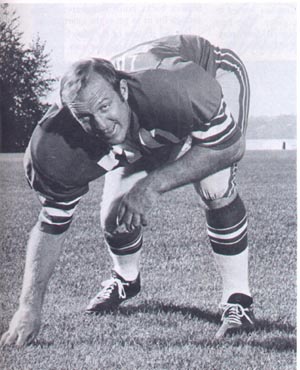 Seahawks were kings
Early teams were fun to watch, classy
Source: The News Tribune
September 1, 2000
By Dave Boling
The Seahawks were so hastily formed before the 1976 opener, there were five players on the field who had practiced with the team only twice.
In his first postgame interview, quarterback Jim Zorn once referred to a teammate as "No. 44." That was the best he could do; he didn't know his name.
Because the core of the team was so inexperienced, Patera knew he needed some gray-beards with good attitudes to come in and shape the personality of the team in the locker room.
He quickly traded for one of his stand-bys in Minnesota, Bob Lurtsema, the famous "Benchwarmer Bob" of Viking renown. Except Lurtsema didn't spend time on the bench in Seattle, he started 25 games at defensive end the first two seasons.
"Evil Jack - our nickname for (Patera) - brought in a couple old veterans like Mike Curtis and myself," said Lurtsema, who still trades on his football reputation as a businessman back in Minnesota. "Some of us old-timers were brought in to maintain a positive attitude.
"That was part of the leadership role he wanted me to play. You don't bring in an 11-year veteran to have a negative attitude in the locker room. You needed positive people because he knew there was going to be a lot of bad games and tough times."
Lurtsema played 11 of his 12 seasons in the NFL with Patera, and he saw a coach who was highly adept at tailoring his approach to his personnel.
"Jack wanted consistency, predictability," Lurtsema said. "He wanted a durable player he could depend on. Let's say you have a player like Carl Eller, who always played at a 98-percent level. And you had a Bob Lurtsema who played at, say, 22 percent. Well, Jack could work around that 22 percent if he knew that's what he'd get every down. I know he cut some players who were better than me, but sometimes better players take a couple series off, and Jack wouldn't stand for that."
In a major compliment, Lurtsema saw in Seattle the same environment, and hunger for football, that he'd seen when he played in Minnesota.
And if anything, the ownership was even better than he could have imagined.
"Totally first class all the way," he said. "The Nordstroms were so nice to us, they were so glad to have football there. They made you feel like a million bucks. They had parties at their house; they gave us turkeys at Thanksgiving, and Christmas gifts ... luggage.
"They always went the extra mile for everybody. They had all the money they wanted, so this was a big toy for them and they just loved sports and this team. It was a fun and exciting time.
"I can't believe it's been 25 years."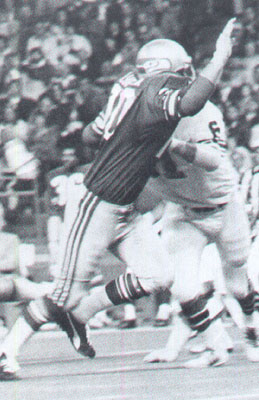 Hawks Look Back to Innocent Days
Source: The News Tribune, Tacoma, Wa.
September 18, 1994
By Bart Wright
Back then, the thought of pro football around here meant puffed-out chests, sweaty palms and a giddy sense of arrival in a new neighborhood.
We were on the edge of a civic frontier we knew would be changing the personality of the region in ways we could only imagine.
We were full of hunches and hysterical hopes attached to imperfect castoffs such as "Benchwarmer Bob" Lurtsema or unprepared and unfazed rookies like Jim Zorn. The future was a huge blank scoreboard waiting for the numbers to be filled in, and the Seahawks played in these rather plain blue and silver uniforms with their distinctive, determined, horizontal logo.
Neil Young sings of American heroes, "Through the years they changed somehow, they're different now," and the sentiment fits just as well around these teams and that concrete building up from the waterfront where it all started.
"I feel sorry for a lot of these guys today," Lurtsema, a modern-day football newspaper publisher and restaurateur, said on Friday. "It's not money, hell, I hope they get every penny they want, but I feel sorry for what they miss that we had. It's impossible anymore to generate the camaraderie, the friendship and fellowship we had.
"My God, we put those Seahawks uniforms on for the first time and there I was playing with Mike Curtis," Lurtsema said. "This was the best linebacker I had ever played with, a great guy and a man I continue to be friends with today. The fans loved us, and we loved the fans. We'd go to those Seahawkers (booster club) meetings, not because it was a payday - we didn't even ask to be paid - we went because they were our fans and we wanted to help them out.
"I love the game, I loved those old Seahawks and the experience we shared throwing a team together to compete in the NFL. But I honestly don't believe you can find many players today who take away from the game the love we had for it. God bless 'em, they take away more money than we did, but those memories I have are even stronger now than they were then, and you can't say that very often about money."
There has never been a Seahawks season quite like that first one.
Bob Lurtsema is currently writing articles for a website. For a sneak preview, click below!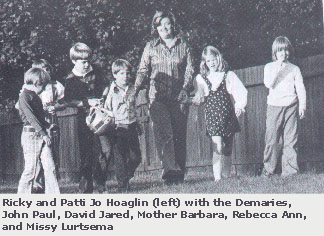 Lurtsema's Reaction: Dropped Opportunities
By Bob Lurtsema
September 30, 2002
Source: www.theinsiders.com
Believe it or not, the Vikings actually had a great chance to tie the Seahawks in the third quarter, but mistakes from Randy Moss and others left the game out of reach in the fourth quarter.
Slowest Player: DE Bob Lurtsema (what can we say, love ya Lurts)
Source: Street and Smith's Pro Football 1977
There is room for improvement at end, where the incumbent starters are Dave Tipton and 35-year-old Bob Lurtsema. Behind them are
Carl Barisich
and
Larry Woods
.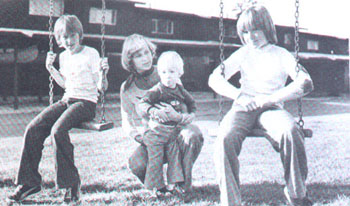 Riding the Pines to Fame
Source: Hit & Tell: War Stories From the NFL's Wildest Players, by Joseph Hession and Kevin Lynch (1995)
One of the most celebrated members of Minnesota's famed "Purple People eaters" defensive front of the 1970s was hardly a member at all. In fact, he became famous mostly for not playing.
His name was Bob Lurtsema, a 6 foot 2, 260 pound defensive lineman from Western Michigan. He joined Minnesota in 1972 at the height of the Vikings' defensive dominance after being cut by the New York Giants and soon acquired the nickname "Benchwarmer Bob".
"At first, it was just a joke," said Lurtsema, "But the name stuck. People started picking up on it and it spread from there." Lurtsema eventually became a minor celebrity and a spokesman for a local banking chain, filming dozens of commercials over the next five years as "Benchwarmer Bob". The highlight was "Bob Lurtsema Day" at snow-covered Metropolitan Stadium. Fittingly, Lurtsema's wife didn't even show up.
"It got to the point where I couldn't go anywhere without being recognized," Lurtsema said. "People knew my face as well as anyone on the team. And we had some pretty high-profile guys back then. I heard about it from some of the other players on the team." Opponents too.
In a game against the Detriot Lions, Lurtsema broke through the offensive line to sack quarterback Bill Munson. Lurtsema jumped up joyously after the sack and Munson found a quick way to halt the celebration.
"He kept staring at me," Lurtsema said. "Then he yelled, 'Hey, Lurtsema, what are you doing in the game? Are we that far behind?' That brought me down to earth real fast."
Lurtsema was eventually traded to Seattle in 1976 along with a fourth-round draft choice for wide receiver Ahmad Rashad. He started for two seasons in Seattle before retiring. Yet, he isn't remembered as a starter for the Seahawks, but as a second-stringer for the Vikings. "Looking back, it worked out pretty well," said Lurtsema, who founded a chain of restaurants called, you guessed it, "Benchwarmer Bob's". "I may be remembered as 'Benchwarmer Bob', but at least I'm remembered by an awful lot of people."
Bob Lurtsema
New York Giants 1967-71
Minnesota Vikings 1972-76
Seattle Seahawks 1976-77
During 11 NFL seasons, Lurtsema had one interception. He estimated that he saw action on about 30 percent of the Vikings' defensive plays in four- and five-man fronts.
When a pro football player joins a new team he not only gets a new uniform but he has to paint his son's helmet.
Source: Pro! The Official Magazine of the National Football League
Seahawks Edition
Detroit vs Seattle
October 24, 1976
By Carolyn Andersen
"Sunday will never be the same."
As KIRO Radio proudly boasts to over 1,500,000 people in the metropolitan Seattle area, the Seahawks have given new meaning and life to Sundays. While Seattle's entry into the NFL has brought about many changes in the weekend schedule of local football fans, families of the men who suit up in the silver and blue each Sunday, find it "just another working day."
Although the public may view the life of a pro athlete as glamorous, few of the wives consider it to be any different than a dozen other professions.
Aloise Lurtsema, wife of Seahawks defensive end, Bob, is enjoying her time in Seattle and looks on it as a vacation and a time to "sight-see, eat seafood and enjoy my three children." She is the mother of nine-year-old Alisa, seven-year-old Missy, and two-year-old Robby.
Although moving was not a foreign subject to the Lurtsemas, the idea of a mid-season change was. "Benchwarmer Bob" and his family were unprepared for the move and Aloise says it shows in her "basic trunk" furnishings.
"We recognized the possibility of a trade during training camp," says the pert blond, "but once the season started we assumed we would remain in the Viking organization. By the time it happened it was too late to rent or lease our home, so we packed two trunks, one box, locked the house, and came West."
Bob and Aloise met as students at Western Michigan University where she was majoring in education and Bob was studying to be an engineer. Even though Bob was voted the MVP award on the 1965 college football team, the couple did not anticipate a professional career.
"In fact," reflects Aloise, "when he was picked by the Baltimore Colts as a free agent in 1966, I didn't even know what that meant."
In their 10-years of marriage, they have made 20 moves, never spending more than two years in any one house. In that time they have built two identical homes, the first being in Grand Rapids, Michigan where they grew up.
After one year in Baltimore and several years in New York with the Giants, they became the property of the Vikings in 1972 and fell in love with the area. Two years ago they built a duplicate of the house in Michigan, "The only change was the addition of one bedroom for our one addition to the family," recalls Mrs. Lurtsema. It is that house they left last month and to which they will return in December.
An accomplished ice skater, Mrs. Lurtsema's credit list of athletic skills reads as long as her husband. Growing up in a family of nationa1 class swimmers and world class ice skaters she attended eight-week summer skiing camps much the same as pro football players attend training camp, Although she elected not to join a professional ice show, she has made a career of teaching skating and swimming classes.
In discussing their lifestyle, Aloise proudly boasts that they are a family at all costs. They enjoy all winter sports; find more free time during the season to participate in family activities than during the off-season when Bob's time is less predictable because of a heavy public appearance schedule. He is also involved with making commercia1s for Twin City Federal Savings and Loan in Minnesota in which he has gone from "Benchwarmer Bob" to "Starter Bob".
Lurtsema, five others released by Seahawks
Daily News-Miner
Fairbanks, Alaska
Wednesday, Sept. 14, 1977
SEATTLE (API—Veteran Bob Lurtsema and five other players were cut from the active roster Tuesday as the Seattle Seahawks reduced their National Football League team to the 43-player limit.
Tight ends John McMakin and Charles Waddell, running back Hugh McKinnis and cornerback Ernie Jones also were placed on irrevocable waivers Tuesday. Randy Coffield, linebacker, was placed on injured reserves with a knee injury, meaning he is out for the season.
Lurtsema, 34, an 11-year veteran, was obtained last year from the Minnesota Vikings and became a starter at defensive end. Unless he is claimed by another team, Lurtsema likely will be one of those signed to a new contract by the Seahawks when the NFL teams are allowed to sign two extra players later. The rosters will be increased lo 45, but only 43 will be permitted to suit up for the game.
Waddell was acquired in the veteran allocation last year but missed an entire season because of a knee injury. Jones and Coffield were 1976 draftees— Jones in the fifth round and Coffield in the tenth.
McMakin was waived late Tuesday after the Seahawks picked up tight end John Sawyer on waivers from the Houston Oilers. The release of McMakin leaves Seattle with only nine of the original 39 players the club selected in last year's veteran allocation.
Commercial Star Lurtsema Waived
BLOOMINGTON, Minn. (API)
Defensive lineman Bob Lurtsema, an unsung veteran of 10 National Football League seasons who became well known as "just another pretty face," has been placed on waivers by the Minnesota Vikings.
Lurtsema became one of Minnesota's best-known athletes by starring in a series of commercials for a local savings and loan Association.
"As I lay here in shock, I know nothing," said Lurtsema Monday. "If I was to be released I thought it would be earlier this year."
"His "pretty face," dominated by a large nose, and his disarming manner made him an immediate television, celebrity when the association began using his commercials three years ago.
"We picked him because he is a nonhero with a funny name," said Bob Evans, vice president for marketing.
But it may not be the end of Lurtsema's career. Jack Patera, a former Viking assistant coach now heading the Seattle Seahawks, said his club planned to claim Lurtsema today. Lurtsema said he didn't know whether he would go to Seattle, but said he would be talking to Patera again.
"Lurts," as he was known in Minnesota, hit the banquet circuit hard after he became a household word. He also appeared in many Vikings' athletic benefits, where he played the role of team clown.
He also is a familiar sight around children's hospitals, boys clubs and athletic parks. "I've made a lot of children happy," said Lurtsema. "The exposure I got through the commercials has helped me meet some great kids, and great people."
The theme of his commercials was that even a benchwarmer could be a star at the savings and loan association. One of his favorites shows Lurtsema standing in ankle-deep snow at Metropolitan Stadium, making a speech at "Bob Lurtsema Day." The camera pans out to show an empty stadium, with Lurtsema mumbling, "You'd think my wife and kids would show up."
Minnesota Coach Bud Grant said Lurtsema was waived in order to make room for Bob Berry, a reserve quarterback cut by the Vikings last week but signed again Monday. "Having a third quarterback will let me sleep nights." said Grant.
The benchwarmer's cut caused anguish for his underdog fans in Minnesota.
"I could die. I think I'm going to be sick," wailed Susan George, who has a large, autographed poster of Lurtsema taped to her kitchen cupboard in Minneapolis. "It just isn't going to be the same. There's nobody like super Lurts."
Seahawks Spoiling Lurtsema's Image
Friday, August 05, 1977
Lawton, Oklahoma
The Lawton Constitution
CHENEY, Wash. (AP) - Pity pool Benchwarmer Bob.
The guy has labored long and hard throughout his 11 years in the National Football League to make a name for himself. He's very good at sitting on benches, and he knows it.
But the longer he stays with the Seattle Seahawks, the more tarnished his image as a second-stringer becomes. The Seahawks, you see, likely are going to make Benchwarmer Bob, also known as Bob Lurtsema to his family and friends, a starter at defensive end. At age 35, Bob is taking the news like a pro.
"Them trying to change my image, no, it doesn't bother me a bit." Lurtsema says with a grin. "They better not bring it back."
The personable, 6 foot-6, 250-pound defensive lineman came to Seattle on waivers early last season from the Minnesota Vikings, where he was a secondstringer and part time starter for five seasons.
He started the final 13 games for the Seahawks last year, and now it looks as though they're going to ask him to be a regular again.
"I've had a hard row to hoe," Lurtsema said Thursday at Seattle's training camp here. "But I've never lost my perspective. Everybody gives their best effort, but not everyone can be on top. Some are always going to have to be on the bottom.
"Luckily, when I've gotten in there I've played well."
Collecting Bob Lurtsema?
1971 Topps #241
From our Readers
From:
Larry Walke
Sent: Sunday, January 02, 2011 3:20 PM
Subject: My Idol and Mentor
I was 14 growing up in Grand Rapids/Ada Mi on 30th Street in Cascade. Bob Lurtsema moved into our neighborhood and was all the buzz. He was number 75, defensive end for the Minnesota Vikings. I was trying out for the high school football team at Forest Hills Central. Full of hubris and youth I walked up to his house and rang the door bell, I was going to ask him to work out with me at the our school's football field. I did not tell anyone because I knew he would say no, too busy, not enough time and who are you anyway let alone answer the door. I did not want to look stupid.
To my surprise, delight and horror this big, huge man opened the door with a big smile and hello. I could not speak at first but managed to ask if he wanted to work out and that I wanted to be a defensive end too and maybe we could help each other.
He did not hesitate while looking down at my anxious expression and asked when? I suggested Saturday morning and he agreed. I could not drive and explained that I needed a ride to the field.
We agreed upon a time and he picked me up at my house. Imagine my parents and neighbors surprise when Bob Lurtsema came to get me. I was very popular and feared by my fellow team mates because I had Bob Lurtsema as my coach and work out partner. We went to the field and he worked with me, did sprints while I timed him with his stop watch. Never forgotten how he could run so fast as big as he was.
We did the same the following week and Mr. Lurtsema had to return to his professional schedule.
Mr. Lurtsema raised the hopes, desire and a desperate need for sense of self to a young man that has never forgotten his kindness and lesson.
Sincerely,
Larry Walke