Carl Barisich was there!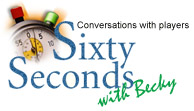 Pre-76
All-Ivy League choice at Princeton
Drafted 1973 (Cleveland)
1976
5 1/2 sacks, 1 fumble recovery
9 tackles against San Francisco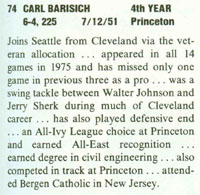 Source: Street and Smith's Pro Football 1977
There is room for improvement at end, where the incumbent starters are
Dave Tipton
and 35-year-old
Bob Lurtsema
. Behind them are Carl Barisish and
Larry Woods
.
'Hawk Cuts Due Today
"Listen, there are a lot worse places to train. Ever been to Hiram, Ohio? It's located in a dry county which is bad enough. But it's surrounded by five more dry counties. At least it's not dry here. You have places to replace the fluids."
Guard John Demarie, a nine-year performer with the Cleveland Browns, made that perceptive observation yesterday.
What that means, most of all, is that the real scars-on-their-scars veterans are in the Seahawk training camp.
Those who had been in camp for the past seven days were given last night off -- no team meeting.
"Yeah," Carl Barisich countered, "but where are you going to go here anyway?"
The William W. Roper Award
Awarded annually to a Princeton senior male of high scholastic rank and outstanding qualities of sportsmanship for general proficiency in athletics. Presented by Mrs. William W. Roper and the Class of 1902.
1973 : Carl J. Barisich '73
Pro Football 1976
by Larry Felser and Dave Klein
Secondary?
Patera
has
Dave Brown
and
Eddie McMillan
on the corners, with
Al Matthews
,
Rondy Colbert
and
Lyle Blackwood
competing for the safety jobs. And rookie
Don Dufek
of Michigan will hit hard enough to make the club. He's a former Wolverine linebacker now projected as a strong safety.
There were even some plums for the front four. Like Carl Barisich, who can play end or tackle. Like Wayne Baker at tackle, all 6-6 and 269 pounds of him. And Patera spent his first-round draft choice for monstrous Steve Niehaus of Notre Dame, an instant starter. "He reminds me of Merlin Olsen," said Patera, "but he's stronger."
Owens, a bit short, is strong and has some speed. Barisich is the find among the drafted vets; he can play. Niehaus is Coach Patera's mine, a huge tackle with quickness and inordinate strength. Baker, somewhat slow, has marvelous size. Lloyd has the size and quickness to win a job as soon as he adapts to the pros. Dixon, a lower draftee is green but talented.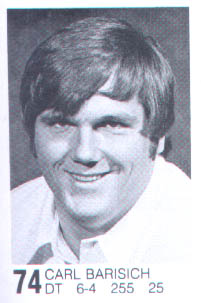 From: Melissa Grosvenor
Sent: Monday, June 11, 2007 8:13 PM
Subject: Carl Barisich
Hello Becky,
Would you be able to tell me if Mr. Barisch's e-mail address is still valid? I am very interested in finding out if we're related.
Thank you for your time.
Sincerely,
Melissa Grosvenor
[Web author's note: I cannot give out confidential information, but I'm happy to post your message on this page for Carl Barisich to answer if he so chooses!]
From: LYNN S WRIGHT RENAE J WRIGHT
Sent: Monday, December 01, 2003 11:20 PM
Subject: I was there
In 1976 I was a Football Fanatic and 12 years old. I lived at Turnbull National Wildlife Refuge , 6 miles out of Cheney. My 9 year old Brother and I used to ride our bikes in to watch Practices. My highlight was when Carl Barisich let me try his Helmet on. Seattle Seahawk practices and Savage House Pizza afterward, that was a nice combo!
I miss Washington State, it is a great place to live.
Follow-up From: LYNN S WRIGHT RENAE J WRIGHT
Sent: Tuesday, December 02, 2003 9:37 PM
Subject: Re: I was there
I will never forget it. Being only 12, it was great. He was such a nice guy. The helmet was so big on me. I can still remember him saying "you'll grow into it". That was a very special summer in Cheney. We used to catch the Footballs that the Kickers kicked and we would throw them back. I live in Denver now.
Class Activities
Saturday, November 1- Princeton-Cornell Football Game. "Special Mini-Reunion" Carl Barisich, Bill Kapler, Steve Glauberman, Rich Thaler, Rod Dorman, Gerry Ward, Dick Walker, Jerry Raymond, Barry Richardson et al. will be pitching a tent in the Caldwell/Observatory lot from about 11 AM until ???
If you are interesting in participating, please contact Carl immediately at Cbarisich@comcast.net. Carl needs an estimated headcount to plan for tent size and catering needs so he can quote a per person charge. Families/kids welcome!
The Pocket Book of Pro Football 1976
Edited by Herbert M. Furlow
It might mean a rush line of
Tipton
,
Owens
, and
Woods
, but camp most likely will decide. No bargains were available in the expansion draft. Woods was a backup with the Jets, and Tipton an occasional starter with San Diego; Owens used to start with the Saints, but he didn't in 1975. He's a pretty fair pass rusher, but he can be beat on the run.
O'Neal
might be a sleeper. He comes from Grambling and the Saskatoon Roughriders of the CFL, and he's a rush line end who likes to annoy quarterbacks.
Baker
and Barisich are possibles.
Collecting Carl Barisich?
Sorry - no Carl Barisich cards! But he did have a mini-poster from the Seattle Post-Intelligencer, #16.