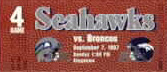 WE LOST! There. I said it. I even said it grandiose-style! All the Bronco fans can cheer and be happy, and all the Seahawks fans can hang-dog and feel bad, but know what?!? I'm here, as usual, with a different spin!!!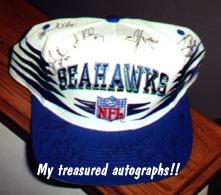 Seahawk fans, we have SO MANY REASONS to be proud!! It's true! We do!! We have some of the COOLEST players in the NFL on our team!! And I'm here to tell you about them!
This was my first game in the Kingdome!! Ever!! Anyone who knows me even a little knows that I'm a night owl, but I sat right up in bed, wide awake, on Sunday morning at 5:00 a.m. in Gig Harbor, Washington, knowing it was GAME DAY and I'D BE THERE!!!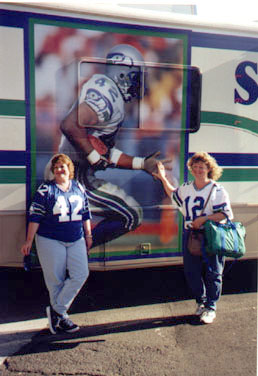 My friends and I arrived at the game when the parking lot was still empty! First order of business was to meet my cyberfriend, Marolyn, and her husband, Jim! Marolyn and Jim are season ticket holders and I met Marolyn when she wrote to me with comments about my web page! We became friends and she extended to me an invitation I couldn't refuse; to join her at the game!! We were barely finished with introductions when the first player walked into the Kingdome! Mr. Jon Kitna!! What a thrill it was! Mr. Kitna was very charming, stopping to speak to the fans, signing autographs, extremely polite and courteous!! I patiently awaited my turn, though it was difficult (!), and then I asked Mr. Kitna to autograph my hat! As he did so, I complimented him on his season with the Barcelona Dragons and a big smile came over his face! I asked if I could take his photograph and he not only agreed, he stopped to pose!! A real fan's man, and certainly a gentleman!! Lead on, Mr. Kitna!!! And thank you so much!!
I had planned to attend the tailgate party in the pavilion, however, the next two hours flew by as we awaited more players' entry into the Kingdome!! So many of them were willing to stop and sign autographs!! I was able to get nine autographs, plenty more had I not been visiting with other people or not felt badly for other players who were absolutely swarmed with fans! I believe Shawn Springs received the most attention and though I took his photograph, I didn't attempt to get an autograph! He was very kind to sign for so many fans! I can't tell you how much fun I was having, but the smile on my face, my weak knees and shaking hands told the story all on their own! It was a VERY exciting time that I shall never forget!
While waiting near the Kingdome entrance, I was able to meet The Hawkster!! (Ah, come on! Any on-line Seahawk fan should already know the Hawkster!!!) It was a pleasure to meet him in person after having known him on-line for over a year!! GREAT guy, very nice, very personable!! Thanks, Hawkster, for stopping by for a visit!
I walked into the Kingdome in awe!! I'd seen it so many times on television and I immediately scanned the field for familiarities! Everything was there, from the helmet in the center of the field to the www.seahawks.com banner on the sidelines! It was a terrific feeling to be there! So many thoughts ran through my mind as I recalled great moments in Seahawk history!! Game winning TD's, spectacular receptions made by my all time favorite, Steve Largent, and so many other memorable moments in the Kingdome!! What a feeling!!!
I must say, however, that I was disappointed in one aspect. There weren't many of us in team apparel! I had hopes of getting a photo of myself sitting amongst fellow fans, all decked in team jerseys or t-shirts, but no such luck!! Most of the people around me were in 'street clothes'! I found that to be quite a let down...! Where were the crazies??? You know, THE FANS LIKE ME!?!?!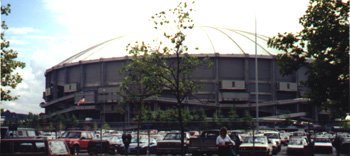 It was sweeeeeet when they announced the team! What a rush of excitement! The fans were into the game, yelling and screaming to encourage our players to do their best!! When Elway and Company were down in our end of the field, our half of the stadium came to life, chanting and making all the noise we could!! We did the wave, we did the SEA-HAWKS chant taking turns with the other half of the stadium!! Though I didn't see it, I'm told I was on the big screen briefly!! Goooooo Seahawks!! Very good time!
I won't go into the actual details of the game, as we all know it didn't go our way. At half time, we were up and the feeling was good, but the break seemed to take away our momentum and we were never able to regain it. I was, however, able to meet up with Bill Bessette (of the Seahawks Seahawks Seahawks site, of course!) during half time, much to my delight! Bill and his wife flew in from the New Jersey area to take in the game, and like Hawkster, I found them both to be wonderful people! Boy, do the Seahawks know how to attract great fans, or what?!?!?
The game resumed, went downhill rather quickly, and fans cleared out very early in the final quarter. The mood grew more solemn with each additional scoring drive by Denver. It was painful to sit through to the end of the game. Another bitter loss. And yet the Seahawk players...MY HEROES...had given me so much before the game with their words and their smiles and their willingness to sign autographs...I didn't sink into my normal post-game depression that comes after a defeat. I know our players WANTED to win, as did I, and somehow, we'll find a way yet this season. I have to believe that.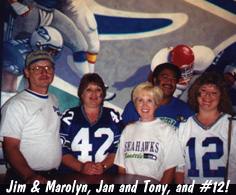 After the game, Marolyn and Jim took us into the End Zone Club for the post game show sponsored by KIRO. It was there that we listened to Coach Erickson's comments on the game. He looked tired and worn down, and didn't have anything out of the ordinary to tell us. I found it hard to be sympathetic, perhaps because I felt the need to 'blame' someone for the loss. It hurt.
To my surprise, Darryl Williams entered the room with his wife, his son, and his parents! Mr. and Mrs. Williams were wearing #33 jerseys and looking mighty proud, as well they should! During the radio interview, Mr. Williams was asked if the secondary unit needed more time to gel, to which he answered he would not accept that as an excuse for their performance on the field! Good Answer, Mr. Williams! No excuses! Learn from each game and improve! That's what we need to do! Mr. Williams was kind enough to allow me to be in a photograph with him, a thrill to me for sure! Shortly thereafter, Mr. Williams left the room, carrying his son, his family following. It was a moving sight and I was glad he had the wonderful support from his family to help him through this difficult moment!
Again, to my surprise, another player entered the room! This time it was Phillip Daniels! I was struck by his height! He is waaaay up there! During the radio interview, they asked Mr. Daniels how it felt to be a starter and how it felt to have his name called to run out onto the field for introductions! I wish you all could have seen how his eyes lit up when he talked about it! So proud! So excited! And yet acknowledging that he has a lot of hard work ahead of him! Another fine player, in my opinion! I wish him continued success!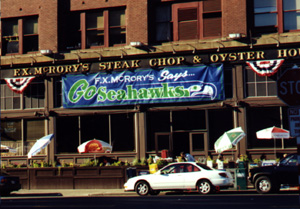 We then left the Kingdome and walked to F.X. McRory's. The club was filled with Bronco fans and Seahawk fans alike. It was loud, lively and so much fun! Bronco fans would start a BRON-COS chant, and Seahawk fans would then reply with a hearty SEA-HAWKS chant!!! There was a lot of ribbing going on, a lot of hollering back and forth, all in good fun! I thoroughly enjoyed myself midst all the excitement! Sitting a couple of tables away from us were Rick Tuten and Dean Wells! As much as I'd have loved to visit with them, I (like others in the club) respected their privacy and admired them from afar!! And again, Hawkster was able to meet up with us briefly for post game chatter! Thanks, Hawkster! I had a great time!
If there was a particularly bitter moment in this spectacular day, it was seeing the faces of the TRUE fans when the game was out of reach. My heart went out to them, as I have shared their disappointment so many times myself. I wanted to reach out to them, to tell them there will be better days (I believe there will be!) but having been there myself, I know it just takes time. The loss was less devastating to me than to others because I had captured so many wonderful memories prior to the game, but also, in my heart, I KNOW we have many talented players on our team; players who have what it takes to be winners on and off the field, and I'm VERY PROUD OF THEM! It truly was wonderful being a Seahawk fan in the land of my beloved Seahawks!
---
To leave the Kingdome and read more about my trip to Seattle, click here!